Vandaag, weer een papa-dag, lekker naar de Jumbo.
En dat terwijl zuslief Chloé op school zit. Dus deze keer mag ik zelf het karretje doen.
Maar… papa vond me al groot genoeg om met het mandje in de weer te gaan, en dat heb ik maar lekker gedaan.
Leuk!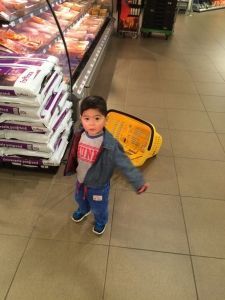 Zelfs bewegend:
Oh, en wie wat laat vallen…
precies, die ruimt het zelf op (na een korte tip van papa buiten de camera's om).
Zie je ondertussen ook hoe mooi mijn logo is en het mooi past op m'n jas? Yip-Man to the rescue!